The Rinks & Great Park  Zoom Virtual Training allows skaters to stay on top of their skills and continue to stay active away from the rink.  Offering this online virtual training is a great option to stay connected with your coaches and instructors. We will continue to offer these online sessions as we move forward and adjust programming as needed.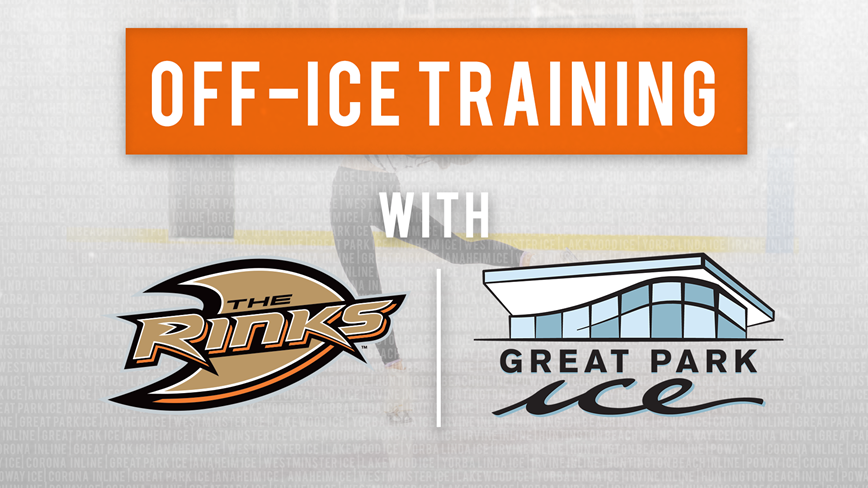 Basic 1-6 Agility, Balance & Coordination
With Coach Michelle, Great Park Ice
Practice off ice exercises for basic 1-6 elements to help refresh your skills and enhance your progress for returning to the ice
Details:
Click here to join!
Off-Ice Jump Training
With Coach Chris, Anaheim ICE
Learning the proper foundation to your jumps on the floor is critical to your safety and success on the ice. Learn some tips and trips on how to improve your figure skating jump technique, balance, height, and control!
Details:
Recommended For:
Pre-Academy & up; ages 6 & up
Click here to join!
Basic 1-6 Beginning Choreography
With Coach Kelly, Lakewood ICE
Come create an off ice program with us! Learn the basic of choreography all while incorporating elements used in your Learn to Skate Class.
Details:
Recommended For:
Basic 1-6 & up; ages 6 & up
Click here to join!
Choreographed Warm-Up
With Coach Courtney, Poway ICE
Details:
It never fails...you walk into the rink and your coach says "don't forget to warm up off ice". But what do you do specifically?! Although many athletes attend hours and hours of off ice training, many feel a little lost when it comes to choosing the right exercises to do before taking the ice. You know what good exercises are and how to execute them properly but which ones are best right now, how many repetitions should you complete, are you warming up properly, what's the right amount of time, etc. Let Coach Courtney answer these questions for you by teaching you a choreographed warm up...one that only takes the length of a song! It is easy to remember, adaptable to each athlete, and FUN!
Click here to join!
Snowplow Sam Off-Ice
With Coach Kelly, Lakewood ICE
Healthy and fun off ice activities, games and excersies to keep your Snowplow skater active while still at home!
Details:
Recommended For:
Snowplow Sam 1-4; ages 4-6
Click here to join!
Reminders
Equipment Needed (if available):
Yoga mat or towel
Additional recommendations are listed next to the class
How to log in
Download the Zoom app on your phone, tablet or laptop
Things to know
Login a few minutes before your class so you are ready to go when class starts
Please mute your device when the session begins so the host can teach without background noise and interference.
Use "Speaker View" or pin the instructor screen to best see demos 
Chat feature- you can use the "Chat" feature to type questions and one of our host will assist you.
Wear athletic shoes
Have hair pulled back out of face
Parents - please make sure your child is supervised & participating in a clear, open space
We will be trying some new things so just follow along, try your best & have fun!