The First Strides Try Skating for Free program offers first-time skaters the chance to get on the rink and learn how to skate for free! The two-week mini-Learn to Skate session will introduce skaters to the basics of skating - how to sit & stand up on the ice, marching & gliding - and to our professional skating staff.  
Select a facility below to register today!
*First Strides is not currently available at Great Park Ice.*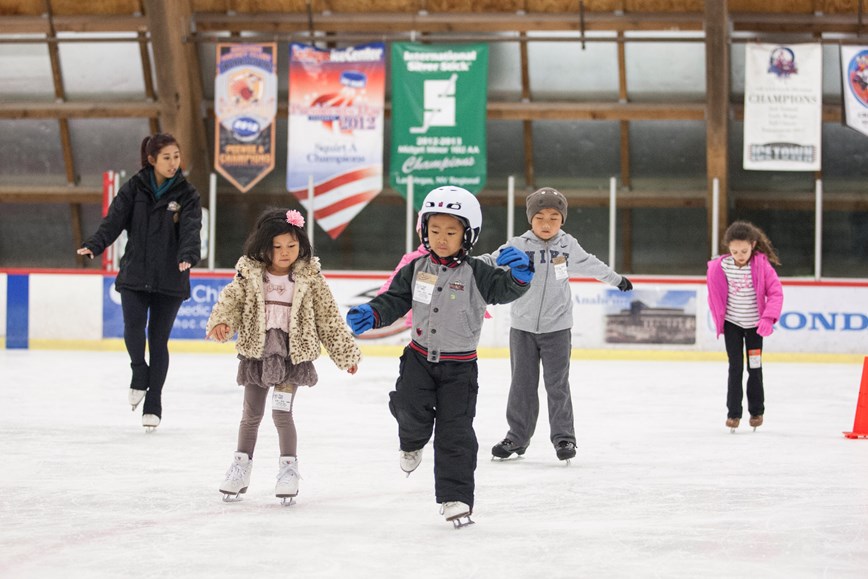 The Rinks - Anaheim ICE
Wednesdays, January 4 & 11
4:45 - 5:15 p.m. 
5:20 - 5:50 p.m. 
5:55 - 6:25 p.m. 
Saturdays, January 7 & 14
10:30 - 11:00 a.m.
11:05 - 11:35 a.m.
11:40 a.m. - 12:10 p.m.
12:15 - 12:45 p.m.
IMPORTANT: Families may only register and participate in ONE of the time slots listed above. Repeat registrants will be removed from participating in the program. 
Register Here
The Rinks - Lakewood ICE
Next Session - January 7 & 14; 12:15-1:15 p.m.
Register Here
Frequently Asked Questions
Group classes are the fastest and safest way to learn and enjoy any sport or recreational activity. Skating classes at The Rinks & Great Park Ice include the following benefits:
Entertaining and fun!
Great source of exercise
Meet new friends
Build self-confidence and sportsmanship
Participate in group performances
The Rinks & Great Park Ice have group classes for all ages and abilities. Following week 3 of your trial session, our staff will let you know which class will best suit your skill level.
Ages 3-5
Ages 6-15
Basic classes

Basic 1
Basic 2
Basic 3
Basic 4
Basic 5
Basic 6

Hockey Skills classes

Hockey 1
Hockey 2
Hockey 3
Ages 16 & Up
Though the lobby in some rinks may be warm, the rinks themselves are often very cold! Here is how we suggest dressing for your lessons:
Wear layers:

Shorts under sweatpants and a t-shirt under a sweatshirt to keep warm on the ice

Gloves or mittens to keep your hands warm
Don't forget your socks!
For those spectating but not taking part in lessons, we strongly suggest bringing a sweatshirt to wear while you watch. 
No, rental skates are included as part of the class
For more information on our group skating classes, click here