Giving Back Program
Giving Back is an important part of growing any sport. Our Giving Back program allows High School, Jr. Ducks, Lady Ducks and OC Hockey Club players at the 14U and above level the opportunity to give back to the game they love and gain community service hours. We offer one of the largest grassroots hockey initiatives across the USA Hockey. We utilize these programs to embrace our community and make a positive impact on today's youth. There's nothing more impactful than having passionate players return to their roots and help new players learn the game.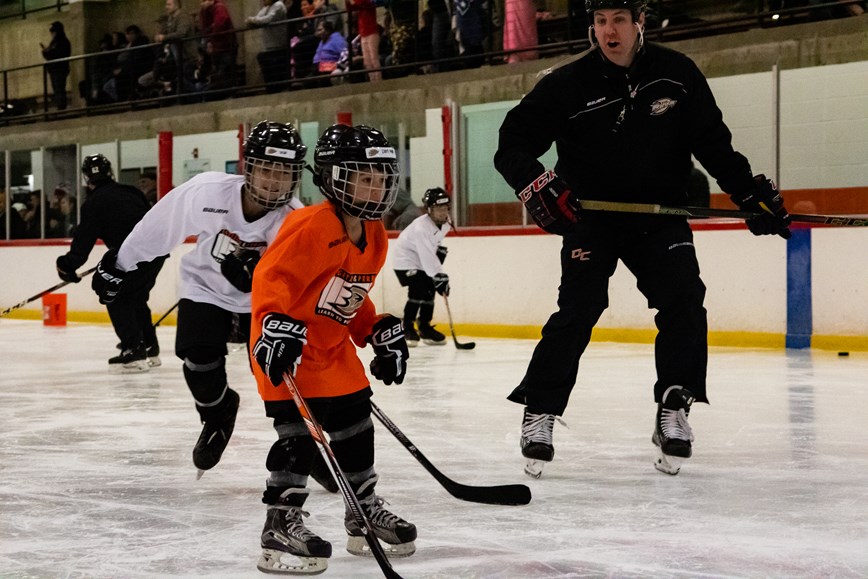 Requirements to Volunteer
Must currently be a member of a Jr Ducks, Lady Ducks, OCHC or Anaheim Ducks High School Hockey League team
All volunteers must be properly registered with USA Hockey to volunteer & complete the following:
Benefits of Volunteering
Completion of community service hours required for High School graduation
Letter of recommendation or reference as needed per request
Opportunity to join our Rinks coaching team in the future
Programs to Volunteer For
Learn to Play

The Anaheim Ducks Learn to Play Hockey program is designed to introduce children ages 4 to 12 with little to no prior skating or hockey hockey experience to the sport for the first time. Learn to Play is four-weeks.

Little Ducks

Little Ducks is the Anaheim branch of the NHL's league-wide Learn to Play initiative. The step after Learn to Play, Little Ducks, while still designed for beginners, is designed to begin the introduction of basic hockey concepts to participants. Little Ducks is six-weeks

Hockey Initiation

Hockey Initiation is designed to prepare beginning hockey players for joining a team as part of The Rinks Youth Rec League. Hockey Initiation is 16-weeks. 
Register to Volunteer
Volunteering for The Rinks and it's programs has had an enormous impact on me as a player and overall as a person. Teaching hockey to young and developing players has been nothing short of a surreal experience. Only two years ago I was in their shoes & it has been a joy to see others following the same path I took to start their hockey journey. Being able to share and spread knowledge of the game I love has been amazing and I would not trade my volunteer experience for any other.
Volunteering at the All-World Hockey Institute summer camps was very fun. Being a junior coach taught me more responsibility. I remember when I was younger being in the camps and coming back as a junior coach to teach campers hockey was pretty cool. The kids were a delight to coach and fun to hang out with.
Being a Giving Back hockey coach volunteer has impacted me in countless positive ways. I got the opportunity to experience a positive work environment and the responsibilities that come with it. All of my co-workers and peers were very friendly and helped me overcome any obstacle. I am so thankful to have been able to give back to the community and to the game of hockey.